The site uses cookies to help show you the most up-to-date information. By continuing to use the site, you consent to the use of your Metadata and cookies. Cookie policy
Patriarchal Exarch of Western Europe presides over patronal feast at the Resurrection church in Zurich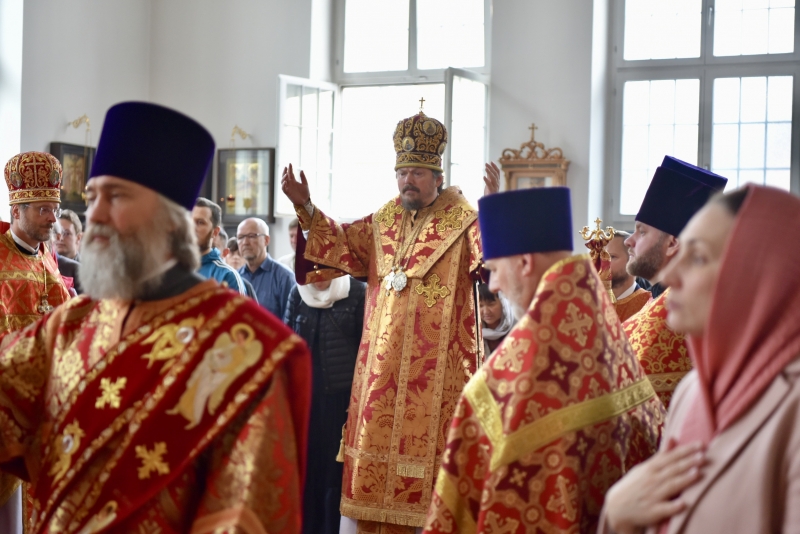 DECR Communication Service, 25.04.2023.
On April 23, the Second Sunday of Pascha, St. Thomas Sunday, Metropolitan Nestor of Chersonesus and Western Europe, paid an archpastoral visit to the largest community of the Russian Orthodox Church in Switzerland – the Church of the Resurrection in Zürich and celebrated the Divine Liturgy there.

Concelebrating with His Eminence were Archpriest Mikhail Zeman, rector of the church; Archimandrite Martin (de Calfisch), abbot of Holy Trinity Monastery in Dompierre; Rev. Maxim Politov, secretary of the Chersonesus diocese; Archimandrite Kosmas (Bühl) of the Serbian Orthodox diocese of Austria and Switzerland; Rev. Dimitri Mottier, rector of the parish in Sion; hieromonk Eusebius (Reis) of the Monastery of the Holy Cross in Roveredo; deacon Roman Onika, who is accompanying Metropolitan Nestor; protodeacon Vadim Novinsky, and deacon Daniel Schärer of the Church of the Resurrection in Zürich.
Liturgical hymns were sung by the parish choir conducted by Nadya Dalvit-Saminskaya.
At the Little Entrance, Metropolitan Nestor presented liturgical awards to Archimandrite Martin, Archpriest Mikhail Zeman and Rev. Dimitri Mottier in consideration of their labours for the Church of Christ and in connection with the Great and Holy Feast of Pascha with the blessing of His Holiness Patriarch Kirill of Moscow and All Rus'.
At the end of the service, Metropolitan Nestor addressed the worshippers with a homily and congratulated them on the patronal feast and on the Bright Resurrection of Christ.
Archpriest Mikhail Zeman thanked Metropolitan Nestor of behalf of the clerics and parishioners for his archpastoral visit and presented him with a small chest with a particle of the relics of Helvetian saints.
Afterwards, the church choir and the parishioners performed a Paschal festive concert.
On the previous evening, Metropolitan Nestor celebrated the All-Night Vigil at the Church of the Resurrection.