The site uses cookies to help show you the most up-to-date information. By continuing to use the site, you consent to the use of your Metadata and cookies. Cookie policy
The Children's Easter Festival was held in Paris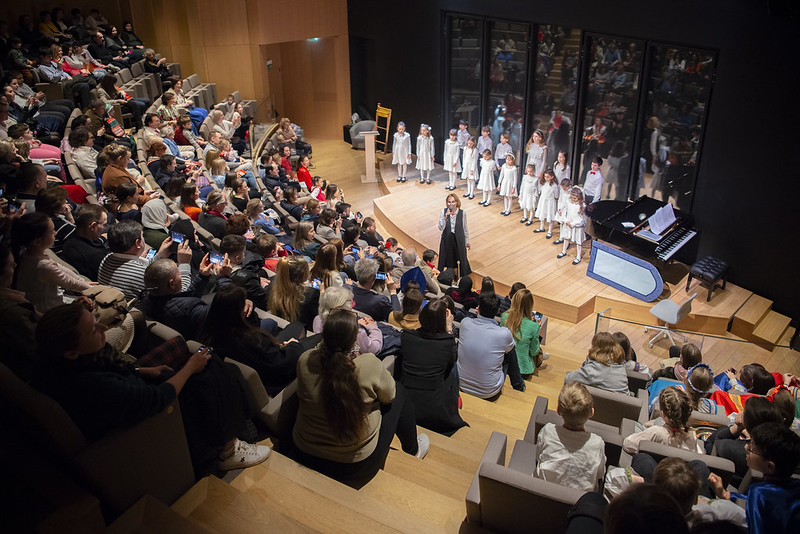 DECR Communication Service, 24.04.2023.

With the blessing of Metropolitan Nestor of Korsun and Western Europe, Patriarchal Exarch of Western Europe, on the Holy Saturday, April 22nd, at the Russian Spiritual and Cultural Orthodox Center on the Quai Branly in Paris, the fifth annual Children's Easter Festival was held with the participation of about 250 people.

Before the musical festival began, a Divine Liturgy was celebrated at the Trinity Cathedral with the active participation of the children, led by Hieromonk Joseph (Pavlinchuk), with Hierodeacon Dionysius (Volkov) officiating. Archpriest Igor Trofim, priests Ioan Dimitrov, Daniel Naberezhny and Anthony Sidenko also prayed at the Liturgy, according to the website of the Korsun diocese.

On this day, students of parochial and children's Russian-speaking schools of the Parisian region, as well as families with young children, were invited to the church to participate in the Divine Liturgy. Two children's choirs sang during the service.

After the Divine Liturgy and the procession of the cross, the participants and guests of the festival shared the Easter meal. Various master classes on decorating Easter eggs and cakes were offered, making Easter-themed handicrafts and decorations.

Then, young parishioners of the Paris Region churches and parochial schools students participated in an Easter concert that took place in the amphitheater of the Center. The choir of the Sunday School of the Holy Trinity Cathedral (precentor - Irina Fanina), children's choir of St. Paisius Velichkovsky community in Paris (precentor - nun Valentina (Chunchuk)) and the choir of the Russian classical gymnasium under the direction of Olga Rusakova performed.