The site uses cookies to help show you the most up-to-date information. By continuing to use the site, you consent to the use of your Metadata and cookies. Cookie policy
Russian sailors are commemorated in Peru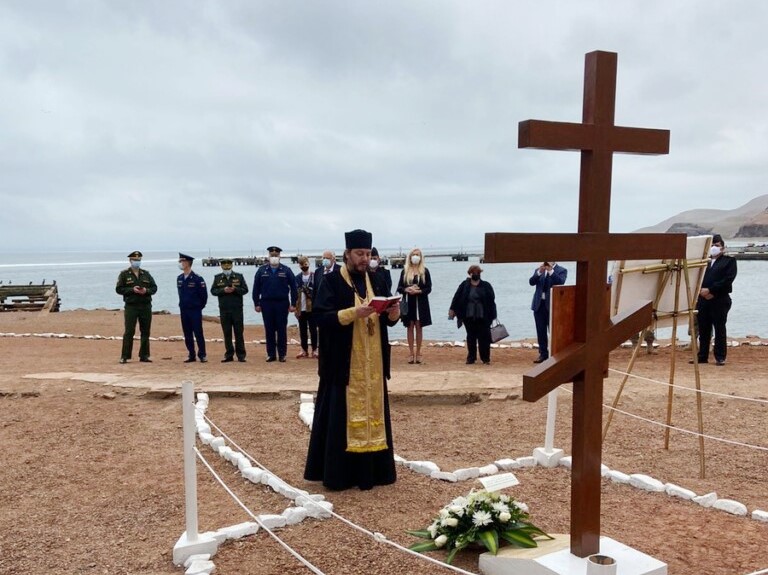 On October 25, 2021, a delegation headed by H.E. Igor V. Romanchenko, Ambassador Extraordinary and Plenipotentiary of the Russian Federation to the Republic of Peru, visited San Lorenzo Island, Peru. The delegation included Ms Alisa A. Gilyazeva, chairperson of the Coordination Committee of Russian Compatriots living in Peru; hieromonk Innokenty (Karpov), rector of the parish of St. Matrona of Moscow in Lima; and representatives of the Peruvian Navy Command.
Installed on the island is a memorial to the two Russian sailors from the legendary sail frigate of the Russian Imperial fleet "Avrora" who died and were buried here in 1864 when the frigate called at port Callao during its round-the-world cruise.
Ambassador Romanchenko opened a commemorative ceremony by welcoming remarks and said that care for war graves located far away from the Motherland and commemoration of the fallen in the line of duty have been helping to preserve people's historical memory.
Wreaths were laid at the memorial, and hieromonk Innokenty celebrated a requiem service.
DECR Communication Service/
Source: website of the Russian
Orthodox Diocese of Argentina