The site uses cookies to help show you the most up-to-date information. By continuing to use the site, you consent to the use of your Metadata and cookies. Cookie policy
Exhibition devoted to the Likhud brothers' academic work has opened in Moscow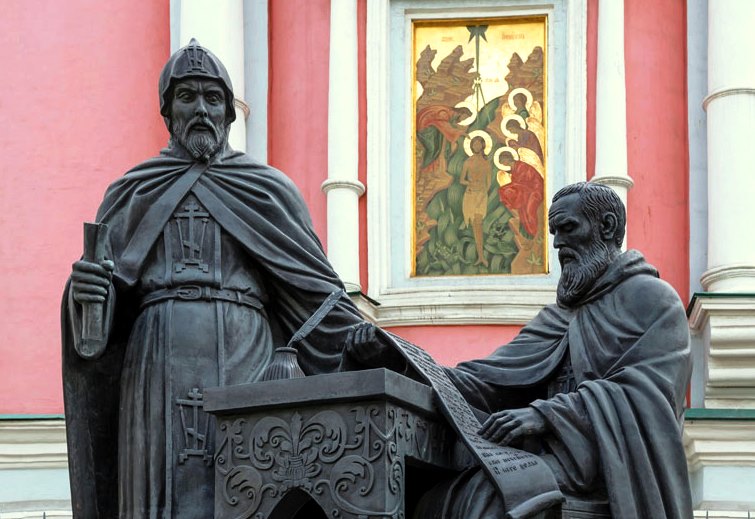 On November 10, 2021, the exhibition "Greek Educators in Russia: the Likhud Brothers and the Slavic- Greek-Latin Academy in Moscow" opened at the Blue Exhibition Hall of the Russian State Library. It was organized by the Russian State Library and the Greek Embassy in Russia.
The exhibition is dated for the Year of the History of Russia and Greece. The display includes rare books kept in the Rare Books Department and other structural unites of the library, Greek, Latin and Slavic printed books and manuscripts of the Likhuds, their contemporaries, disciples and followers, as well as written sources connected with the history of the first higher education institution - the Slavic-Greek-Latin Academy, to be established in Russia.
The opening ceremony was attended by Ms Ekaterini Nassika, Extraordinary and Plenipotentiary Ambassador of Greece to Russia, representatives of the library administration and Greek diplomatic mission, scholars and experts interested in the Greek historical academic and cultural legacy. The Moscow Patriarchate Department for External Church Relations was represented by Archpriest Sergiy Zvonarev, secretary for the affairs of the diaspora.
The exhibition will last from November 11 to 24, 2021.
DECR Communication Service